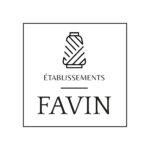 Establishments Favin
Knitter
For more than 110 years, Etablissements FAVIN has specialized in the manufacture of knitted hosiery, mainly socks and tights. This historical know-how allows us to work for major French brands, and to perpetuate in our region this constant search for excellence.
Recently awarded the France Terre Textile label, we are proud to offer our customers the best of French hosiery.
The Favin Establishments are located in Traînel, in the Aube region in France.
Services :
French manufacturer of knitted footwear.
Knitting socks (models with drawings, ribs, links, openwork), rosso sewing, integrated tights assembly, forming, labeling, lace, buttons, knots, pompons.
Application fields :
Clothing, sport
Materials / treated textile surfaces :
Equipment :
LONATTI electronic machines, single cylinder machines (J9, J14, J22), double cylinder machines (J6, J14), TRAFORATO machines (J14, J22)