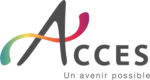 Acces
Manufacturer, cutter
We are a work-based integration organization and we have a textile workshop equipped with industrial machines for sewing, double and triple feed and overlocking machines.
Possibility of subcontracting or co-development of prototypes.
Services :
Prototype development, manufacturing.
Application fields :
Clothing, furniture
Equipment :
Piqueuse plate, double et triple entrainement, surjeteuse, recouvreuse.